Help the University to make history
31 Oct 2013
Our staff, students and alumni are being invited to influence how we approach the University's history by completing an online survey - closing date extended to 15 November.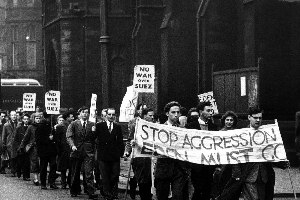 Our history and heritage makes us the institution we are today and is central to our identity as a University community.
It's a history of global significance, thanks partly to the research and teaching that has happened here. But it has a much broader base: the fascinating and diverse social history of our staff and students and our contribution to shaping the city have played just as important a part in creating our identity.
Our history belongs to all of us and so we should have a say in how we approach it. That's why the University History Group, chaired by Professor Rod Coombs, is asking for your views and ideas to inform the new framework for University History and Heritage.
The University History and Heritage Survey, which opens on Monday, 21 October and runs until Friday, 15 November, is part of a consultation exercise, which will also seek contributions from:
One-to-one meetings with Directors and Heads of PSS directorates and Faculties;
Meetings with key groups, such as Faculty Leadership teams; and
Town Hall meetings.
The University Heritage Programme was established more than two years ago, but the recent appointment of Dr James Hopkins as University Historian and Heritage Officer provides the opportunity to take another look at how we understand, engage with and conserve our past.
The results from the survey and meetings will be analysed and used to create the University History and Heritage Framework for presentation to the University History Group on 4 December 2013.
Take part in the survey by 15 November
Visit:
Further information
Contact: