Warriors of the Plains: 200 years of Native North American honour and ritual
22 May 2013
New exhibition at Manchester Museum from 25 May to 3 November 2013.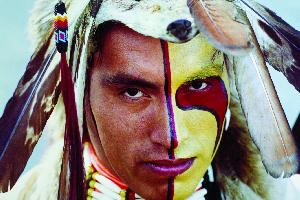 Free entry
#WarriorsOfThePlains
Ceremonial shirts, moccasins and tomahawks, alongside photographs of these objects in use, bring to life the world of Native North American warfare and ritual from 1800 to the present day. On tour from the British Museum.

The exhibition focuses on the material culture of Native North American Indians of the Plains between 1800 and the present, and the importance of the objects in a social and ceremonial context.

Tribes' men were expected to join a 'warrior society' – a social, political and ritual group that engaged in warfare and organised ceremonial life.

The societies played a prominent role in battles, offering members the opportunity to gain honours through individual acts of bravery such as stealing horses, capturing women, and taking scalps during war raids. These societies, however, had a rich ritual life that was marked by a strong sense of spirituality. In their ceremonies society members made use of objects such as pipes, rattles and headdresses, as these were significant to their shared ideas of ritual and honour.

The exhibition explores the world of the Plains Indians through exceptional examples of feather headdresses, shields, moccasins, painted hides, scalps, pipes, tomahawks, and traditional and contemporary dress. Although many of these items may seem initially familiar from popular culture, the exhibition uncovers the deeper ritual significance of these iconic objects.

A selection of photographs shows past and present contexts of the objects used in these societies. The legacy of the warrior societies is also examined, revealing their crucial role in maintaining tribal identity among Plains Indians today.

Supported by the generosity of the Dorset Foundation.
Image: Returning the Gaze. Assiniboine dancer Kevin Haywahe with face paint. © Jeff Thomas.
Further information