Message from the Head of Music, Caroline Bithell
02 Jul 2020
Introducing Martin Harris Centre Music Online and our new Virtual Concert Series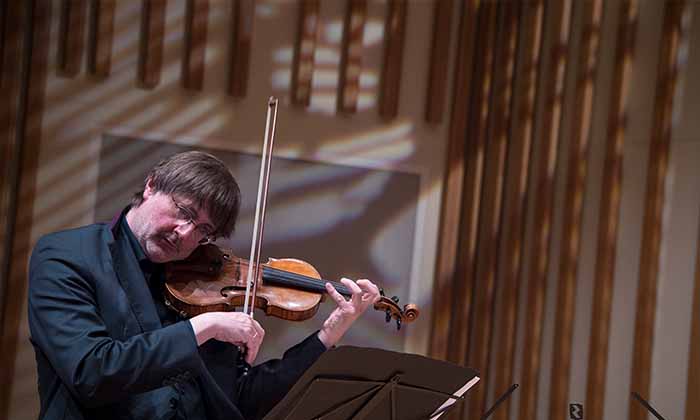 It goes without saying that the events of the past few months have turned our lives upside down in ways we could never have anticipated. While the Martin Harris Centre may have temporarily closed its doors, however, the music hasn't stopped. One of the most pressing challenges we faced when we first went into lockdown was to find inventive ways of allowing our Music students to complete their performance courses now that their end-of-year solo recitals and ensemble showcases could no longer take place as planned in the concert hall. We came so close to staging our annual student klezmer concert and the debut concert of our new jazz ensemble, which we know many of you were looking forward to as much as we were. All was not lost, however. Thanks to the wonders of technology, most of our students were able to continue taking instrumental and vocal lessons online and many went on to submit excellent performances via video.
Most recently we have been busy building a new Music Department YouTube channel and launching Martin Harris Centre Music Online as a way of keeping our performance community alive and bringing musical sustenance into the homes of our audiences, staff and students, and music-lovers near and far. One of the interesting by-products of the pandemic is the way in which so many of us have had the time and space to rethink our priorities and reclaim some of the things that nurture us but are all too often squeezed out of our busy schedules. Across the world, music is playing a powerful part in improving personal wellbeing and keeping people connected. This is our contribution! The first in our new Virtual Concert Series features the one-and-only Marc Danel, who is joined by his friend Ralph Szigeti for a short but exhilarating recital of Bach and Tchaikovsky.
We plan to release more concerts across the summer, with artists including some of our award-winning instrumental tutors and talented alumni. Our channel features a wealth of other short films and playlists relating to different aspects of our performance, composition and research cultures. Another item I would like to highlight here is a short film made by one of our former students about the creation of a klezmer showcase that was performed by our Michael Kahan Kapelye and friends at Cross Street Chapel in December 2019. New content will be added to the channel on a weekly basis: we hope you will enjoy exploring it! 
We very much look forward to the day when we will be able to welcome you once again to the Martin Harris Centre. When we might be in a position to resume something resembling business as usual we are as yet unable to say. We had an exciting programme of concerts in the making for our 2020/21 season but this is inevitably on hold until the situation becomes clearer from the perspective of both government directives and university operations as the pandemic continues to take its course. In the meantime, we hope you will appreciate our summer offerings.
Music Department, University of Manchester YouTube channel
https://www.youtube.com/channel/UC68T-gwobRZQHo14f9UHQkQ
Martin Harris Centre Music Online – Marc Danel and Ralph Szigeti
https://www.youtube.com/watch?v=2BGNcG4tpaQ&list=PLuanMPsrGRl9SM711IpPleeMAEJQHoAma
Vessels of Song – Journeys into the Worlds of Klezmer
https://www.youtube.com/watch?v=rKN9mU-iMBE&list=PLuanMPsrGRl--RGr5K8Dz_iwdNVYSbwQd&index=3&t=0s
Professor Caroline Bithell
Head of Music