World Menopause Day: raising awareness and growing the conversation
11 Oct 2022
Tuesday, 18 October is World Menopause Day and we're sharing what we're doing to increase awareness and help support you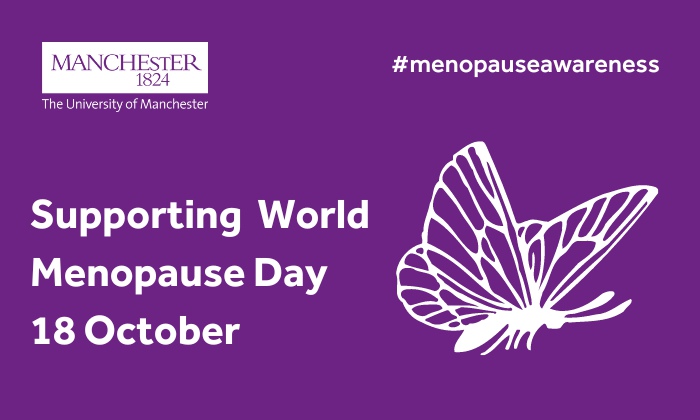 Supporting you in the workplace 
We want to continually highlight the importance of this topic and continue to support all our colleagues everyday. We understand that the workplace can be a great provider of social support and a source of self-esteem. Normalising menopause at work and encouraging open conversations is the right thing to do.
World Menopause Day is an opportunity to raise awareness and signpost support that is available, both within our University and externally. This year's theme is cognition and mood.
Getting involved
On Tuesday, 18 October at 2pm, join Helen Brewis, Head of Wellbeing and Brooke Foulger, People and OD Policy Manager, who will be hosting an in-person and online talk via Zoom to provide an update on our University's menopause journey and future development plans for 2022/2023.
On the same day, you can also join the menopause bus choir or get creative at The Whitworth. On Wednesday, 19 October, you can join Pride in Leadership at their LGBTQ+ event with Lisa Wright, founder of Menopause the Wright Way. Join the St Peter's House team at their menopause yoga session on Thursday, 20 October and share your experience with others at lunch afterwards at Milk and Honey – if you've attended the yoga session, you'll get a 50% discount off their menu. Ease menopause symptoms in the beautiful surroundings of The Whitworth at a yoga and meditation session on Friday, 21 October. 
Menopause at work webinars 
We're delighted that the organisation HenPicked will be hosting two webinars for us in November.  
Take part in our pilot schemes
Menopause nutrition course (ten free places) – a unique opportunity to take part in a free six-week menopause programme, designed to help women feel better physically and emotionally. 
Menopause-friendly fans – we have 50 FANU menopause-friendly fans to give away – all we ask is that you give feedback and fill in an evaluation form.
The future of menopause support   
Our aim is to make all colleagues feel supported, equipped, and comfortable to talk about the menopause. We will be striving to achieve Menopause Friendly Accreditation, to demonstrate our commitment to foster an inclusive culture and understand how the menopause can impact our colleagues, improving awareness and support. 
We will keep you updated on our progress as we move forward with our future plans to support all colleagues either going through early, peri menopause or the post journey, or are supporting someone in their personal or work life. 
Further information: