Organic veg boxes and freshly-baked bread available to buy on campus
23 Sep 2022
Veg Box People are making a return to our campus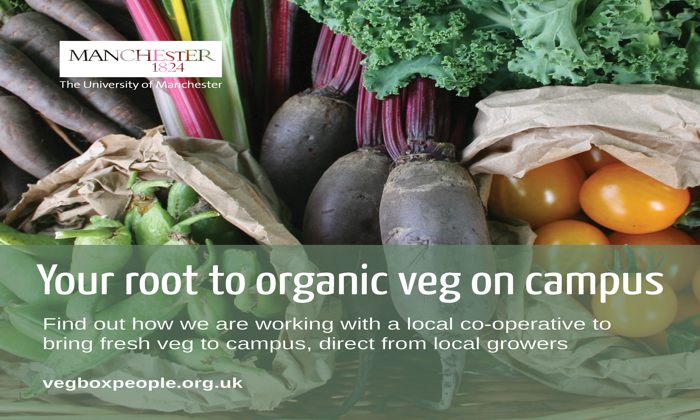 It's bean a long time, so lettuce keep you healthy with lovely local veg on campus!
(don't let the veg puns put you off, no more below we promise!)
We don't know about you, but it's felt like a long couple of years since we last had our all singing and dancing collection point on campus and could take the time to say hello as well as getting your delicious, local, fresh, veg to you. 
But the hiatus is over, and Veg Box People are making a full return to campus, with some exciting added extras just for you!
We are back every Tuesday at University Place, outside the Greenhouse Cafe, with:
Longer opening times - to make it even easier to collect your fresh veg at your convenience
Our lovely team on hand - to ask questions or share recipes with
A new extra large veg bag - for larger households or big veg lovers 
We'll even have delicious bread back on sale from a local bakery
Having launched our fresh veg scheme back in 2015 with deeply valued support from The University of Manchester, we can't wait to see you all again.
With this month being 'Organic September' we're going to try and spread the word even more and will be at University Place from 12 - 6pm, so do come and say hello!
If all this is new to you and you're wondering why you might want to sign up to our veg box scheme as an alternative to your usual supermarket shop, there are lots of great reasons:
Our produce is seasonal and as locally grown as possible - meaning that we can grow different varieties for their wonderful flavours (and not for their longevity while being transported across the world!)
All of our fruit and veg is organic - that means no pesticides or other chemical nasties are used, which is great news for all the pollinators that play a vital part in our ecosystem
We support local farmers by buying their produce and paying a fair price for the hard grind they put in (more important now than ever as they face the challenges of huge increases in costs). So by signing up you will be getting the fairest veg in town!
If you want to find out more - and sign up - please visit our website at vegboxpeople.org.uk. If you're still not sure, come and visit us at our University Place stall on a Tuesday!
To read more about how you can help us celebrate local food and farmers this Organic September, take a look at the Kindling Trust's latest news.