Get fit for summer with our Be Active classes
08 Apr 2022
Sign up for our eight-week exercise classes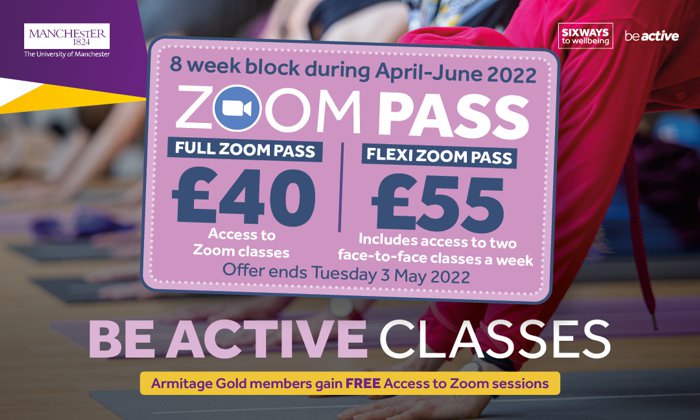 During the summer term we have a reduced group exercise programme offering face-to-face and Zoom classes. we have various yoga classes, Zumba, Pilates, and weights classes including kettlebell conditioning and barbell sculpt, Legs, Bums and Tums, Boxercise, step and body blast.
We are still offering the Full Zoom pass and the Flexi Pass, so if you do more than three Zoom classes a week, our Full Zoom pass is good value at just £40. Or if you like to do a mix of face-to-face at the Wellbeing room plus all Zoom classes this pass costs £55. The closing date to purchase one of our passes is Tuesday, 3 May.
With the Flexi Zoom pass you can book weekly on two face-to-face sessions at the Wellbeing room, no need to book onto the Zoom as all links will be sent to you at the time of purchase. 
You don't have to buy a Zoom or Flexi pass, you can also book for individual courses.