Have you spotted our Big White Wall outside University Place?
30 Oct 2019
Students and staff encouraged to share messages of positivity on our Big White Wall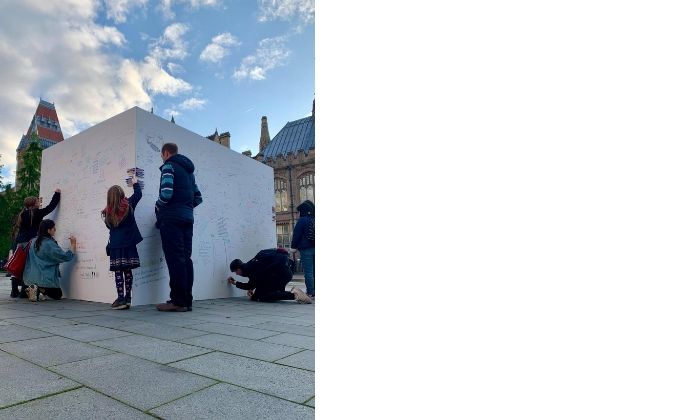 This week marks the launch of Let's Talk, the student mental wellbeing campaign that gets our students talking about the way they feel.
Let's Talk encourages students to talk about their feelings as comfortably as they'd talk about last night's football match or the latest Netflix series.
As part of this campaign, and following the recent launch of the new 24/7 mental wellbeing resource Big White Wall, the Student Communications and Marketing Team have created our very own big white wall outside University Place.
Head over, grab a marker and get creative by writing or drawing a positive message or piece of advice to anyone struggling.
What is Big White Wall?
All students, staff and researchers at the University of Manchester can now access free online mental health and wellbeing support with Big White Wall, any time, any day.
Big White Wall includes self-guided courses, personal assessments and peer to peer support for those living with depression, anxiety and other mental health conditions – and those interested in exploring resources to support their wellbeing. It is monitored 24/7 by trained counsellors and complements our existing University support services.
Big White Wall is being provided through our Student Experience Programme, which is introducing new technology across the University to improve services for students. The service will initially be available for a 12-month trial period and will be overseen by the Division of Campus Life.
More information