SEP makes it easier for students to pay fees
27 Aug 2020
New functionality allows students to view and pay their fees online at any time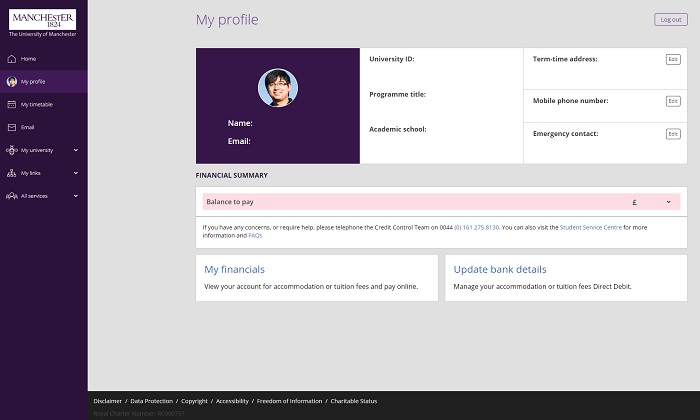 As part of the Student Experience Programme, we're releasing new functionality within My Manchester that will allow students to complete vital financial services swiftly and easily online. This functionality will be available in time for the forthcoming academic year.
From 27 August, students accessing the 'My Profile' area of My Manchester will be able to make one-off payments for tuition fees or accommodation charges and see any overdue or future instalments. They'll also be able to see their active Direct Debits to the University, amend them and create new ones. University Language Centre fees are not covered by this new functionality - they will continue to be taken via eStore.
These services will be accessible 24/7 to all undergraduate, postgraduate taught and postgraduate research students, so they can make payments when necessary throughout the academic year. They'll be able to make payments conveniently, without the hassle of filling in paper forms, going to the bank, calling a phone line or travelling to campus.
This will save significant staff time and resource, by replacing the current phone and paper-based processes. It will also help reduce face-to-face interactions, which is important during this time of social distancing. These online services were originally planned for release at a future date, but resource was allocated to bring them forward in response to safety concerns around COVID-19.
This new functionality is part of the wider Student Experience Programme – which aims to make student services more consistent and convenient to access, while also streamlining and simplifying time-consuming processes. It tackles some of the findings from the original Student Lifecycle Project scoping exercise, where poor student experience and inefficient use of staff time were first identified as key issues to address.
We'll let students know about the new services and how to use them via their start-of-year resources, and when we contact them directly about any individual tuition or accommodation fees that are due.
Further information