Teaching Academy conference helps colleagues prepare for blended learning
11 Dec 2020
On Wednesday, 2 December 80 members of staff attended a blended learning conference hosted by the Teaching Academy.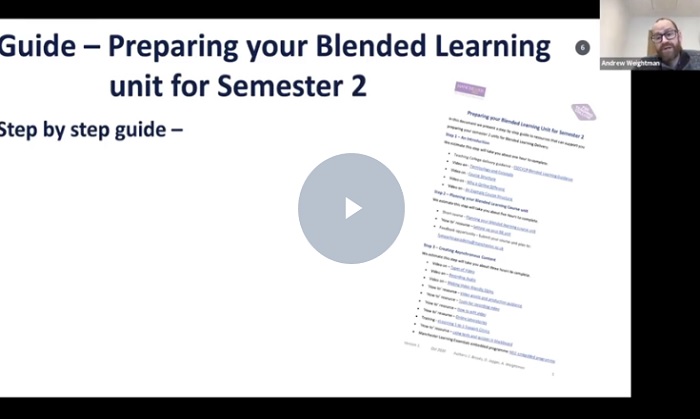 This half day session provided a great opportunity for those teaching in a blended learning format in semester 2 to hear from colleagues and students about their learnings from semester 1.
The day started with an overview of the resources and support available to staff including a step-by step guide which explains how to plan a blended learning course unit, how to map out a unit, creating asynchronous content and the tools available to support this and the practical aspects of delivering a unit including the types of equipment colleagues may need to deliver blended learning. 
Attendees then took part in a session on managing wellbeing in a world of stress followed by an overview of the digital learning tools available at University level. Student Union Postgraduate Officer Nana Fredua Agyeman then joined the event to incorporate the student voice into the discussions and were able to provide some very useful tips and considerations based on student feedback. To end the day, colleagues were invited to take part in a Q&A session to further discuss the topics covered.
Reflecting on the day, Andy Weightman, Associate Dean for Teaching College, said:
"Today has been a great opportunity to really explore how colleagues can effectively deliver a unit using a blended learning approach. I was by no means an expert in blended learning but I've managed to upskill by using the resources outlined on the day. These resources enabled me to change the delivery pattern of my course unit from last year to suit blended learning so I can personally vouch for how useful they are. There have been some elements that I have had to figure out myself however such as accepting that the only way my dogs will refrain from disrupting my teaching is to be in the same room as me!
I hope the attendees found the conference useful and continue to engage with the support available including the Teaching Academy web pages, weekly emails and the e-learning team."
Professor David Schultz from the Department of Earth and Environmental Sciences added:
"I learned a lot about how the pandemic and blended learning is perceived by students from Nana Fredua   Agyeman, who is the Postgraduate Officer at the Students' Union.  Indeed, I was relieved to know that the students recognized the incredible efforts that academics are making to deliver content in this new way for many of us."
You can access videos of each of the conference sessions here.