New and refurbished buildings to open early for engineering teaching
15 Dec 2020
Winter 2021 opening of MECD spaces to enhance our teaching and learning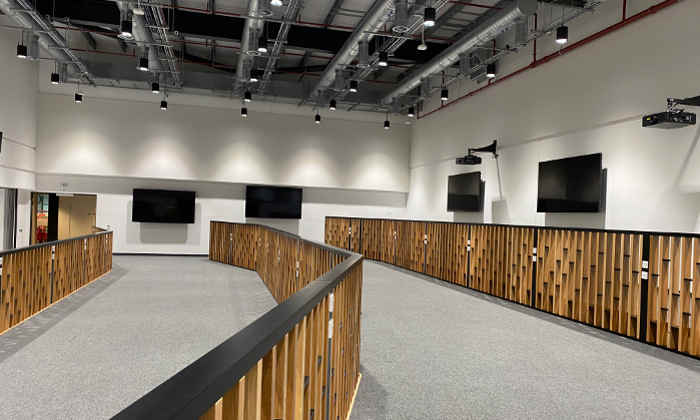 The second floor of Engineering Building B (formerly known as the Upper Brook Street Building) and the ground and fourth floors of the James Chadwick Building, which form part of Manchester Engineering Campus Development, are opening sooner than planned to provide additional teaching spaces from February 2021. 
Three laboratories and eight face-to-face teaching spaces will be opening across the two buildings, plus 10 MEng project spaces dedicated to Electrical and Electronic Engineering students. This early opening is seven months earlier than the scheduled date and 19 months ahead of the full opening of MECD in September 2022. This forms part of our plans for Semester Two (2020/21) teaching, providing for ongoing COVID-secure teaching and learning environments.   
The new spaces include: laboratories on the ground and fourth floors of James Chadwick Building and face-to-face teaching spaces on the second Floor Engineering Building B, which is the building that faces on to Upper Brook St on the eastern side of MECD.  The dry teaching laboratories will provide much-needed additional teaching capacity through the dual running of these new spaces alongside existing laboratories in the Sackville Street Building. Timetabling for these spaces sees students from eight of our nine Departments in the Faculty use one or both buildings, although they will be primarily used by students in the Departments of Mechanical, Aerospace and Civil Engineering (MACE) and Electrical and Electronic Engineering (EEE). 
Dr. Gianpaolo Vignali, Academic Lead for MECD said:
"2021 sees another exciting chapter in the MECD story beginning. I am delighted that due to the hard work and dedication of colleagues we will be able to offer our students early access to new and updated spaces for face-to-face teaching and laboratory based learning.  These spaces will enhance the student experience and mitigate against the need for extended teaching hours due to coronavirus restrictions." 
Entrance to the Engineering Building B will be via temporary access on Upper Brook Street and to the James Chadwick Building via the existing main entrance on Booth Street East. Colleagues using the new spaces are being contacted to arrange induction and familiarisation of the buildings in advance of the commencement of Semester Two. 
The completion of the refurbishment of parts of the James Chadwick building and the second floor of Engineering Building B follows on from the reopening of Oddfellows Hall, which is temporarily being using by the Library to provide 100 bookable study spaces for PGT students.  The Active Travel Hub, adjacent to the Booth St East building is also complete and cycle parking is now available for use.  The completion of the base build of Engineering Building A (MEC Hall) is expected to conclude by the end of February 2021.  
Take a first look inside some these newly refurbished spaces in Engineering Building B