New Graphene Chief Executive appointed at The University of Manchester
30 Jan 2018
A new CEO for Graphene@Manchester will lead the commercial development of graphene and 2D materials.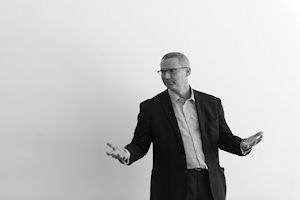 James Baker has been announced as Chief Executive Officer for Graphene@Manchester which leads business-facing development of graphene and 2D materials at The University of Manchester.
Graphene@Manchester includes the National Graphene Institute (NGI) and the new Graphene Engineering Innovation Centre (GEIC).
James was previously Graphene Business Director at the NGI having joined the University in 2014. Previously he spent 25 years in industry where, most recently, he was Vice-President of Technology Collaboration Programmes and Managing Director of the Advanced Technology Centres for BAE Systems in the UK.
As CEO, James will lead the acceleration, application and commercialisation of these new materials and technologies. Recently the University announced that a graphene-enhanced specialist running shoe would be on-sale later this year after research collaboration with British sportswear brand inov-8. Laboratory tests have shown that the rubber outsoles of these shoes, are stronger, more stretchy and more resistant to wear thanks to the incorporation of graphene.
This year will see the opening of the GEIC housed in the recently named 'Masdar Building', named after the Abu Dhabi-based clean energy and renewable energy company and key funders of the GEIC building. The GEIC will complement the existing NGI to create a critical mass of graphene expertise made up of scientists, engineers, innovators and industrialists.
Commenting on his new position James said: "I am delighted with what we have achieved in graphene research and commercialisation here in Manchester to date. We are now developing the next phase of the graphene story in our city with the imminent opening of the GEIC.
"We're already working with over 80 companies and a number of key strategic partners which means that right here in Manchester, the home of graphene, we now have an exceptional infrastructure to accelerate the implementation of graphene and related materials applications." 
Housing leading industry expertise in collaboration with academics, the GEIC will focus on pilot production and material characterisation, together with application development in composites, energy, solution formulations and coatings, electronics, and membranes.
The facilities and close ties with industry will help research breakthroughs progress by developing innovative products and industrial processes by understanding the issues involved in manufacturing and scale up. The GEIC will allow new applications such as graphene membranes for water desalination, or next-generation batteries for electric vehicles to develop industry-ready prototypes.
Professor Luke Georghiou, Deputy President and Deputy Vice-Chancellor of The University of Manchester said: "James' wealth of experience and background in industry has been vital for attracting major commercial companies to work with the University on exciting graphene and 2D materials projects.
"Together the NGI and GEIC, with support from major companies, SMEs, entrepreneurs and innovators provide an unrivalled critical mass of graphene expertise in the heart of the Northern Powerhouse. This innovation ecosystem is key to creating a Graphene City within Manchester."
The GEIC is set to officially open later in 2018. The building is funded by Masdar, the Higher Education Funding Council for England's UK Research Partnership Investment Fund (UKRPIF), Innovate UK, European Regional Development Fund (ERDF), Local Growth Fund.