New multi-million pound halls of residence opens in Fallowfield
06 Sep 2019
A new £90million student accommodation development has been opened in Fallowfield by President and Vice-Chancellor Professor Dame Nancy Rothwell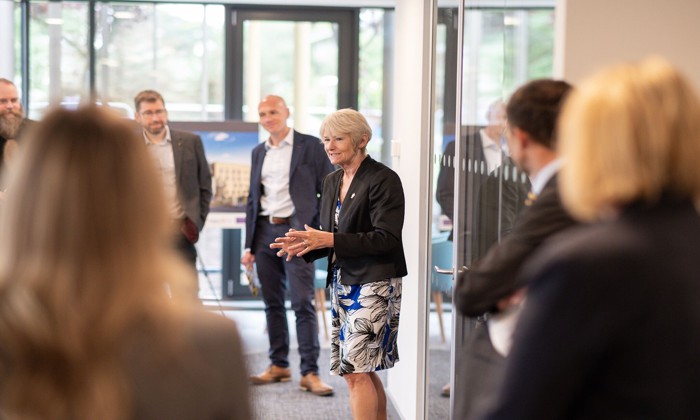 The development, named Unsworth Park, will be home to 1,122 ensuite bedrooms in eight blocks of self-catering student flats. The first 729 rooms are now open with the remaining 393 rooms being ready from December. 
The halls are named after Ron Unsworth, an alumnus of the University who also competed in the men's 400 metre hurdles at the 1948 Summer Olympics in London. During his time at Manchester, Ron studied History and was a long standing supporter of sports development at the University and the institution's Athletics Union. 
Professor Rothwell said: "Ron was a great advocate for the University and its sporting legacy, so it is extremely apt that his long-term contribution to our institution and its students is recognised in such a fitting manner."
The sporting associations don't end there for the new halls. The development was built on vacant land next to the Armitage Sports Centre, home to the University's current Athletics' Union. It is also where the historic Fallowfield Stadium once stood. The stadium no longer exists but in its heyday it played host to an FA Cup Final seeing Wolverhampton Wanderers beat Everton 1–0 nearly 130 years ago in 1893.
Speaking of the new facilities, Professor Rothwell added: "This development will bring the University's accommodation up-to-date and in line with the expectations of our students. 
"As a world-leading institution we pride ourselves on the experience of our students and it's only right that a world-class university has world-class accommodation and facilities.  
"This substantial investment in the new Halls is part of the wider commitment to developing outstanding infrastructure and amenities on campus."
Diana Hampson, Director of Estates, said: "We are delighted with the Unsworth Park development which has been integral to our Campus Masterplan ambitions and we look forward to welcoming our students over the next few weeks."
John Roberts, regional director of VINCI Construction UK Limited, the company who picked up the project after the collapse of Carillion, said: "This has been an exciting project for our team. 
"It's been an example of real partnership with the University to overcome some of the issues, but the work also gave us a chance to help the community too. We worked with local agencies to help local unemployed people by creating around 60 new jobs.  
"The whole experience has been very rewarding and we're looking forward to completing the remaining rooms later this year."