Welcome Week success
05 Oct 2012
Thanks to staff across the University for helping our new students settle into their new home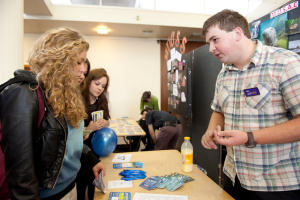 More than 8,000 "ask me" badges and guides were distributed to staff and student helpers while 36 "ask me" information points were located across campus in central services and schools and 34 students carried "ask me" lollipops around campus whatever the weather. Staff not wearing an "ask me" badge are now the exception!
The International Orientation team collected 1,100 students from Manchester airport arriving from 71 countries, then delivered an outstanding programme of events to more than 3,000 students, including presentations, workshops, tours and social events centred in the Students Union.
Once settled into their accommodation, 9,000 students visited the Start of Year Fair over two days and many Schools ran innovative new induction sessions, delivered campus tours, treasure hunts and social activities.
Nearly 31,000 students had completed registration by end of Sunday 23 September. This was all made possible by developments with online registration, the Registration helpline, work of teams in the Library and Whitworth Hall, the International Student Check In desk, the Student Services Centre and colleagues in Finance - supported from behind the scenes with colleagues working tirelessly across the institution.