147 bus running time extended
23 Apr 2012
From Monday 23 April, the running time of the popular 147 Oxford Road Link has been extended to 9pm, as part of a trial extension.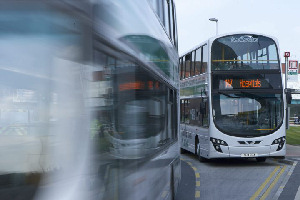 The service will run every 10 minutes, as normal, until 6.30pm when it will run every 20 minutes until 9pm.
(Please note: the last bus will leave Piccadilly rail station at 8.30pm for one more circuit and then terminate back at Piccadilly at 9pm.)
The service has been extended via a proposal from our partner, the Central Manchester NHS Trust, which is keen for the service to run during patient visitor times at the hospitals.
During the extended running times, free travel between campuses will continue to be available to University of Manchester staff and students, as per normal arrangements.
At present, there is no set date for the end of the trial but any service changes will be notified both on the bus and via internal University channels.
Promotional resources available
To help promote the 147 time extension, I have two 6ft pull-up banners. Hopefully one can go on display in University Place, but if anyone would like to borrow the other for a period, please let me know.
In terms of general promotion of the service, I have:
If you would like any print copies for your reception/area, please get in touch with an approximate number.
A5 student promotional fliers and A3 posters. If you would like some of these please send an email request or call.
Further information
For further information on the trial extension and the service in general, please go to:
The new timetable is also available at:
Andrew Hough
Sustainable Travel Planner
andrew.j.hough@manchester.ac.uk / 50343