Deaths of 40 students in World War One to be remembered at talk by James Hern
07 Nov 2017
One hundred years after their deaths, the University is holding a special event to commemorate the lives of 40 students killed in World War One who came from just one of the halls of residence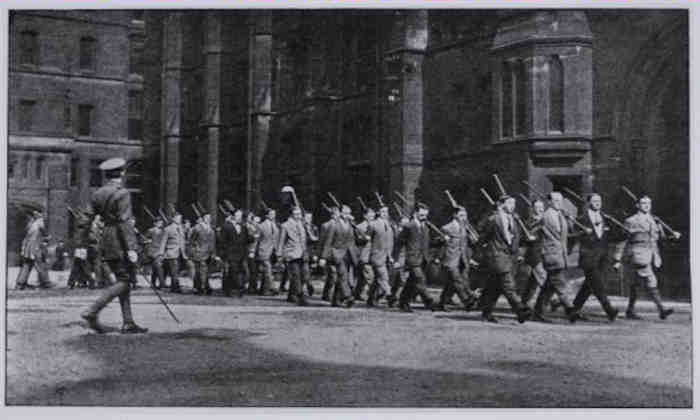 More than 250 students and staff from Hulme Hall in Rusholme went to war between 1914 and 1918. Forty did not return home.
This group forms a significant proportion of the 600 staff, students and Officer Training Corps members who lost their lives during the First World War. They were all linked to The Victoria University of Manchester and The Manchester Municipal School of Technology, which today form The University of Manchester.
At the event on 8 November, some of their stories will be told by former Hulme Hall resident James Hern, who has spent the last five years piecing together never before published letters, photographs and documents for his book, Chairs that Stand Empty.
These include the story of Arthur Lord from Colwyn Bay who had won a scholarship to study medicine, but joined up and lied about his age at least twice. He was promoted to Captain at the age of 19 but died of his wounds after being shot by a sniper in 1917 in France.
The talent of Murray Chapman from Gloucestershire was also never to be realised. The former geology student turned airman was killed in a mid-air collision in February 1918, just two years after he'd married his wife Olive. After his death his family published a book he had written and illustrated, entitled Dragons at Home.
Another scholarship student, this time in history, Robert Bedford from Manchester fought in Gallipoli, Egypt and France where he was killed in March 1918. Before joining the army, Robert had been an active part of the University community as a member of the Historical Society and the University Officer Training Corps.
Author James Hern, who will be delivering the talk said: "Hulme Hall has been a home away from home for students since 1870 but in all of that time, this was its most severe test as a community. Just as in wider society, the war took many lives which were full of unrealised potential, but through their varied and courageous stories we have the opportunity to remember them."
The event on 8 November forms part of a major University of Manchester project being carried out throughout the World War One centenary period to commemorate the role of staff and students in the conflict.
Alongside special events, a website had been created which contains the names and stories of all staff and students who lost their lives. It also records the wider story of the University and the war – such as how medical researchers developed new treatments for wounds and shellshock and scientists' work to improve industrial techniques in the war industry.
Individual stories include the roles of the University's Nobel Prize winners and the tragic death of brilliant young physicist Henry Moseley, an event which led the British Government to establish a new policy barring the country's most prominent scientists from engaging in active combat duty.
Dr James Hopkins, University Historian & Heritage Manager, said: "Working at the University today where there are so many young people and gifted researchers, you can only imagine the profound shock the events of the war must have had on this community.
"This is why we felt it was important to tell some of these stories though events and online, to help remember those who died and the wider contributions made by these people who lived in our city a century ago."
'Chairs that stand empty: The men behind the names on the Hulme Hall First World War Memorial' will be held in the Beyer Lecture Theatre, Beyer Building at 5pm on 8 November.  
Attendance is free, but please register.