Vote for The Whitworth as Best Arts Project in National Lottery Awards
08 Jul 2015
After all the excitement of last week's success at the Museum of the Year awards, it's time to start talking about another award we've been shortlisted for – Best Arts Project in the National Lottery Awards!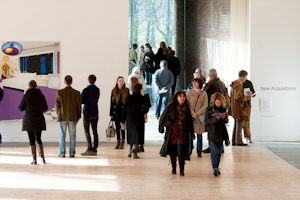 The National Lottery Award nomination focuses particularly on the great work we do with our visitors and the wider community – our work with people in our local neighbourhoods and our fantastic volunteering opportunities. Now we are shortlisted, the award is decided, not by a panel of judges, but by public vote – so we need to get all the people who love us to vote for us!
With this in mind we need to get the voting details out to as many people as we possibly can before voting closes on 29 July. That's just three weeks to send this on to as many people as you possibly can. We'll be asking the University to spread the word to staff, students and alumni, the Friends of the Whitworth to galvanise their members into action, our colleagues at Manchester City Council to get the message out to staff, and all the agencies we work with to add it to email newsletters and websites. We'll also be making the most of our social media channels.
Here's where you can help. Please send the following text out to your own contacts – professional groups, friends and family etc. by email, put it on Facebbok and Twitter, re-tweet the gallery tweets and talk about this with visitors. We have a real chance of winning this award but only if people vote! The Whitworth, part of the University, is delighted to have been shortlisted as Best Arts Project in the 2015 National Lottery Awards. This nomination celebrates our great new building and all the amazing work happening inside it, from our exhibitions to our volunteering programme, our family workshops to our activities in the park.
You can help us win this fantastic award by voting for the Whitworth at:
This nomination comes just as we've reached nearly 220,000 visitors since reopening and been named Museum of the Year in the Art Fund Awards.
If you love the Whitworth, give us your vote!