Bank holiday bike ride from Poynton to Snowdon's summit and back - for Ollie
19 May 2015
Forbes Manson (Institute of Human Development) and a group of friends successfully completed their charity cycling bike ride from Poynton to Snowdon and back over the last Bank Holiday weekend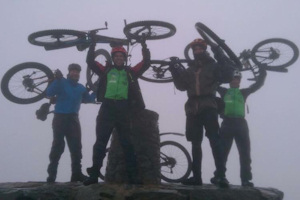 The fundraising bike ride aimed at raising £5000 for four year old Ollie, a local boy with Batten disease.
With a support van to carry their camping kit, the keen cyclists set off early on a wet and windy Saturday to ride from Vernon School in Poynton to the top of Snowdon, a route which included pit stops at Chester, Prestatyn and Betws y Coed.
After a night's camping at the foot of the mountain, the group took on the ride up Snowdon, taking time to enjoy the summit and warm themselves up with hot drinks at the summit café before the ride back down.
After pedalling around 265 miles and climbing approximately 14000 feet, they succeeded in breaking their original fundraising target, with the current figure sitting at £6,365.00.
Forbes and his ten companions would like to say thank you to all those who have donated so far and are hoping people will continue to support Ollie and his younger sister Amelia, who has also been diagnosed with Batten disease.
Donate
Text 'OARS60 £2' to 70070
Further information
To see how else you can help: