Communications comp winners go 'Behind the Black Door' of Whitehall
01 Apr 2015
Following Alex Aiken's guest lecture at The University in November 2014, the Careers Service collaborated with Alex and his team to create the 'Behind the Black Door Competition'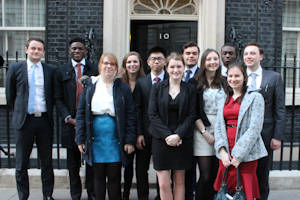 Students from across the University were eligible to apply and, after a review of all the submissions, 25 students were selected to take part in teams of five.
The competition day was run by Paul Gratrick, Graham Keating and Natalie Walsh from the Careers Service and students were given two hours to prepare a five minute pitch on the topic of 'how to engage a student audience with the Government's healthy living campaigns'.
The pitches were delivered to a panel of judges, made up of:
Alex Aiken (Executive Director, Government Communications)
Andrew Westwood (Associate Vice-President for Public Affairs, The University of Manchester)
Vicky Foster-Lloyd (Head of Sport and Active Lifestyles, The University of Manchester)
Alan Ferns (Director of Communications and Marketing, The University of Manchester)
After much deliberation, the judges selected two teams as joint winners, the prize being a visit to the Cabinet Office and No 10 Downing Street, including several meetings with Senior Civil Servants from across Government departments including Public Health England and the Ministry of Defence. The day spent in Whitehall was a fantastic opportunity for students to get 'Behind the Black Door' and to learn about how government communications and marketing works, from the people who deliver the work.
The members of the two winning teams were:
David Ashaolu - PPE, Second Year
Philippa Blunden - English Literature and American Studies, Final Year
Frances Cosby - BASS, Second Year
Kuan-Yu Hou - Management, First Year
Joelle Jefferis - Social Anthropology, Final Year
Yusuf Molade - Economic and Social Studies, Final Year
Jeanmiguel Uva - Politics and International Relations, First Year
Mia Vamrak Strand - Politics and International Relations, Final Year
Robert Varley - BASS, Final Year
Jessica Waugh - Politics and International Relations, Final Year
After the visit, Jeanmiguel Uva commented: "The visit to the Whitehall and 10 Downing Street has definitely been one of the most rewarding and interesting experiences I've had at The University of Manchester. As a Politics student, this was a great experience because it gave me a good insight of how government and civil service works and allowed me to know the place I would love to worked in."
Robert Varley agreed, saying: "The experience was truly invaluable. I had the opportunity to visit various governmental departments, such as the Cabinet Office, which allowed me to gain an insight into the foundations of British politics. I've learned so much from this experience and I am very thankful."
Alex Aiken said: "We were delighted to host the winning teams from the University's communications challenge competition. I hope that the day gave them an experience of modern government, from the challenges of defending the realm to tackling public health problems."