Encourage your students to have their say in the NSS, PTES, and PRES
01 Apr 2015
As you may be aware, the NSS (National Student Survey) and PTES (Postgraduate Taught Experience Survey) have now been running for seven weeks and the PRES (Postgraduate Researcher Experience Survey) for four weeks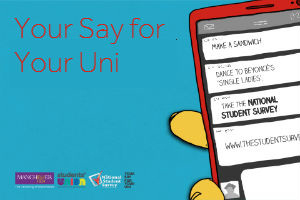 Surveys like this are a key source of information indicating student satisfaction and provide us with valuable feedback on students' experiences during their university life here at Manchester.
The "Your Say for your Uni" campaign has been used in the promotion of the surveys to encourage as many students as possible to take the opportunity to have their say and let us know what they think about a range of issues including teaching, resources and skills development.
NSS results so far indicate that we have reached a similar response level to 2014 with a latest figure of 54.8%. The overall response rate for PTES is currently 25% and PRES 20%; Both are encouraging results but we don't want to stop here! We'd like to improve those rates further to create a strong and truly representative view of how our students view the University. And you can help.
If you work with students – whether in an academic or support role – encourage as many as possible to complete the surveys. Talk to students about the value of their feedback. It is only by being made aware of any problems or issues that we then make changes and improvements.
If you have any ideas on how we could increase the numbers of students participating in the surveys, we would welcome your feedback. Also if you are aware of any initiatives that have been used successfully in your particular area please share them with us and your colleagues.
Further information
If you would like any more information on any of the surveys or need advice on any aspect of the surveys please contact the Student Experience team at: