Mark Radcliffe gives a voice to Stan the T.rex at Manchester Museum!
12 Nov 2014
Part of the Talking Statues project launching at Big Saturday: Dinosaurs on Saturday, 22 November (11am-4pm) - free drop-in event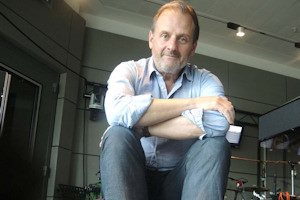 From 22 November, one of Manchester Museum's star attractions, Stan the T.rex, will be able to talk to his many fans through a new mobile phone recording voiced by popular broadcaster Mark Radcliffe.
The audio recording is part of the Talking Statues project with Sing London and Audible.co.uk, who have worked with celebrated writers, actors and comedians to write and record monologues for statues across London and Manchester. For Manchester Museum, members of the public were invited to write a short monologue of words 'by Stan' in an open competition. The winner of the competition is currently being chosen and will be announced next week by the Museum.
The recording will be available year-round, starting from Saturday, 22 November, when it launches at the Museum's Big Saturday: Dinosaurs event (11am-4pm, free). All visitors need to do to hear Stan's words is to swipe their phone on the nearby barcode and hey presto, their phone rings and Stan will be on the phone! Stan, now 65 million years old so a little new to mobile technology, will chat to the listener about his background and reveal some roaring facts about his life as the 'Tyrant Lizard King'.
Mark Radcliffe said "I think 'talking statues' is a brilliant notion and I'm absolutely thrilled to be the voice of Stan. Also, I'm only 5'10" tall and so assuming T.rex proportions will give me some much needed macho presence."
The Museum's Big Saturday: Dinosaurs event is a great family day out for all dinosaur fans. As well as the chance to talk to Stan, visitors can meet the Museum's newest dinosaur, Gorgosaurus, a smaller cousin of the T.rex (7.3m long, 2.6m high). They can discover more about the animals that were living at the time of the dinosaurs such as Ichthyosaurs, Plesiosaurs and Ammonites, find out about Percy the Plesiosaur, talk to dinosaur experts, be dinosaur detectives,make dinosaur sock puppets and more.
Stan the T.rex joins other Talking Statues across Manchester, including code-breaker Alan Turing (written by Mark Ravenhill and recorded by Russell Tovey), Prunella Scales talking as Queen Victoria in Piccadilly Gardens and Tom Conti as Lincoln in Lincoln's Inn Square. The Manchester statue recordings have been produced in partnership with Sing London and Manchester City Council.
The technology behind Talking Statues has been developed by Antenna Lab, a division of Antenna International, leading cultural technologists and creator of Museum Guides. Recordings are made possible by Audible.co.uk.
Further information