Clothes swap raises cash and clothing for local charities
05 Nov 2014
The Rutherford Room was a-buzz this afternoon with the bi-annual Rutherford SWISH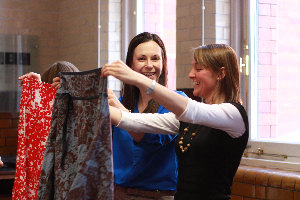 The event, which sees colleagues donating and acquiring pre-loved clothing and accessories, raised £85 for two local charities* (Cornerstone and Mustard Tree Homeless Shelters). The money and left-over clothes (more than 15 bags of pre-loved shoes, clothing and accessories) will be split between the two charities, helping our neighbours to stay warmer this winter.
A huge thanks to everyone who took part: bring on the next one in spring 2015.
Further information
Contact:
* Wood Street Mission is usually one of our charities, but is not accepting donations while its Christmas appeal is in progress.