Migrants in Manchester: An exhibition
20 Aug 2014
At Manchester Central Library, 1st floor, from 18 August to 17 September 2014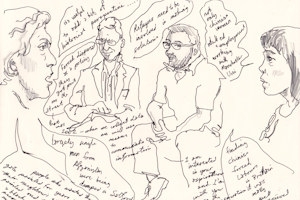 Becoming Undocumented and Staying Undocumented: The Routes to Irregularity and No Way Back
Undocumented migrants in the UK are currently the subject of tough government rhetoric and abrasive action, accompanied by a pernicious media debate. Faced by an ongoing and aggressive set of legislative and policy changes, the position of undocumented migrants is increasingly insecure, with efforts mounting to step up enforcement against this group. In a collaborative project, the Centre for Criminology at The University of Manchester, The Migrant Rights Network, and TiPP ask: 'What are the experiences of undocumented migrants in the UK? What problems do they face in negotiating the system? And what is being done to support them?'
For further information on the project, see:
A series of discussion groups were held with migrant community organisations, migrant campaign groups and professionals working with undocumented migrants. These discussions were documented by local visual artist, Paul Gent, resulting in a deeply moving and evocative set of images depicting the struggles and challenges faced by undocumented migrants in the UK and the people who work with them.
An exhibition of Paul Gent's images can be viewed until 17 September 2014 on the 1st Floor of Manchester Central Library. A launch event will take place on Tuesday, 2 September from 6pm to 7pm, when there will be an opportunity to meet the artist and the research team. Refreshments will be provided and everyone is welcome.
Further details