Hawaiian style thank you for Estates and Facilities staff
12 Aug 2014
In January 2014, the Directorate of Estates and Facilities hosted breakfast over 300 staff members - following the popularity of these events, two further breakfasts were held in July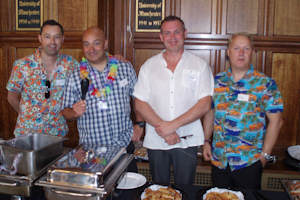 The July breakfasts had a summery theme, with senior managers donning Hawaiian shirts, Lei garlands and even the odd pair of shorts, whilst serving breakfast to around 400 staff over the two events.  
The senior managers were also joined by Will Spinks, Registrar, Secretary and Chief Operating Officer, at the second breakfast, who got involved in serving drinks to the Estates and Facilities staff.
Although the weather wasn't sunny outside, there were summer holiday themed quizzes, Hawaiian tunes in the background, and a couple of games of the now infamous bingo!
The feedback from attendees has been really positive once again and here are just a handful of the comments received:
"A lovely morning, meeting up with people I've not seen for a while."
"Excellent morning, as a recent new starter it was a great way to get to know the 'whole' team."
"Great morning for all staff, it's great that we can all get together to do this, really gives all staff a big lift up."
"Fantastic time yet again, really look forward to another one, great fun."
"Refreshing change, boosts staff morale, thank you."
"Nice way of meeting other Estates colleagues. Enjoyable morning…"
The Directorate will now consider the suggestions received from attendees on future events and activities.
Thank You Scheme
If you'd like to thank someone for their hard work and dedication, why not use the University's Thank You Scheme, which was launched as a direct result of the feedback given in the Staff Survey 2013.
The scheme features a range of innovative ways in which staff can say 'thank you' to each other for work well done, as well as giving greater freedom to managers to recognise the hard work and achievements of their staff.