Christmas and New Year closure: additional information
22 Dec 2021
Our University will close today (Wednesday, 22 December) and will reopen on Tuesday, 4 January 2022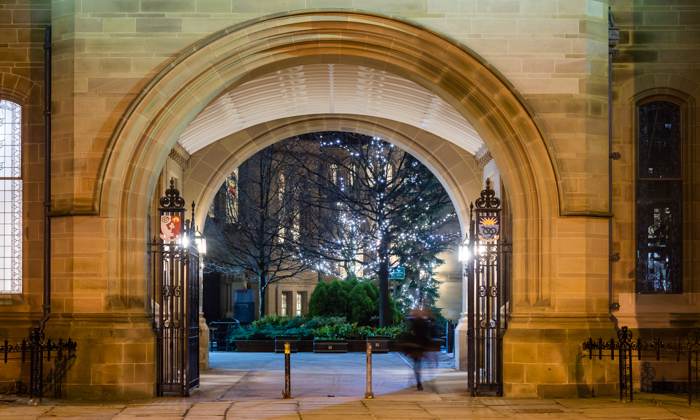 Colleagues will have an additional day of leave over the festive period.  Our Christmas and New Year closure period will begin on Thursday, 23 December, so our last working day is today (Wednesday, 22 December).  We will return on Tuesday, 4 January 2022.  You can find full details of the Christmas and New Year closure period on StaffNet.  The annual leave calculator has been updated to incorporate this additional day of leave.
We recognise that some of our colleagues continue to work on a rota or shift basis over Christmas and New Year, looking after those students who choose to stay with us and ensuring that essential facilities on campus are maintained. If you're one of these colleagues please be assured that you will still receive an extra day of leave even if you can't take it on 23 December 2021 – please speak with your line manager about making arrangements to take your extra day.
Wellbeing help and resources
The festive period is a time of celebration for many of us, when we look forward to an extended break and being with family and friends. We know, however, that that this can be a challenging time of year for colleagues for many reasons. In addition, unfortunately some of us will be unable to spend time with loved ones due to COVID self-isolation. 
As 2021 draws to a close we would like to highlight the many resources available to support your wellbeing. 
IT support over the Christmas and New Year break
During our Christmas closure, the out-of-hours and augmented service desks will be able to deal with many IT enquiries raised through the 24/7 phone line or support portal, however, please note that some enquiries may need to be dealt with after the University re-opens on 4 January.
Switch off this Christmas
If you are on campus, please remember to switch off non-essential electrical items. 
Support for students over the Christmas closure
Whether students are staying in Manchester or travelling home, we're making sure that support remains in place for them throughout the Christmas closure period.
Car parks: Christmas/New Year closure plus PAYG scheme launch
Some of our car parks are open over the break, but some will close today. Plus don't forget our pay-as-you-go parking scheme will launch on Tuesday, 4 January 2022.
Our message to you
It's been another exceptional year, and our StaffNet team would like to send you best wishes for the festive period and 2022.